That every batch of Blood Oath is the undertaking of one man , Blood Oath Whiskey— a student of both bourbon and science. Loyal to no one family, favoring no one distillery and bound by no one philosophy – this bourbon connoisseur has one goal in mind – to seek out bourbons rare and wonderful, famous and forgotten.
Then bottle them in combinations previously unimagined for a lucky few. Not to cater to anyone's loyalties, he has sworn to never reveal where he finds his bourbon, but only to promise to choose and make the best he knows. Loose lips never tasted something so special.
John E. Rempe
CREATOR
John Rempe is the creator of Blood Oath and has been developing and blending spirits and beverages for more than 20 years. Rempe, a Certified Food Scientist, received his bachelor's degree in biology from Saint Louis University. He then spent some time developing carbonated soft drinks and fruit drinks and creating new beverages before moving on to Luxco.
Rempe brought his objective approach and discernible palate to Luxco more than 17 years ago and has since overseen the development and creation of a diverse portfolio of award-winning spirits and whiskeys, including Blood Oath, Pearl Vodka, and Rebel Yell, among many others.
"I have the luxury of not being tied down to one specific distillery for this brand. I have the ability to sample many of the finest bourbons available to make the perfect blend for each Blood Oath Pact."
Classification: Straight Bourbon Finished in Cognac Barrels
Company: Luxco
Distillery: Undisclosed
Release Date: 2020
Proof: 98.6
Age: Blend of 14 Year, 8 Year, and 7 Year Kentucky Straight Rye-Based Bourbons
Mashbill: Undisclosed
Color: Golden Straw
MSRP: $100 (2020)
Blood Oath Whiskey PACTS
Blood Oath Pact 1 2015 One-Time Limited Release Kentucky Straight Bourbon Whiskey
St. Louis-based Luxco announced the launch of its limited release, ultra-premium bourbon series, Blood Oath. This brand-new craft bourbon whiskey series is unique to the market as it will highlight a different variant, or Pact, each year.
Order from the Largest & Most Trusted Premium Spirits Marketplace!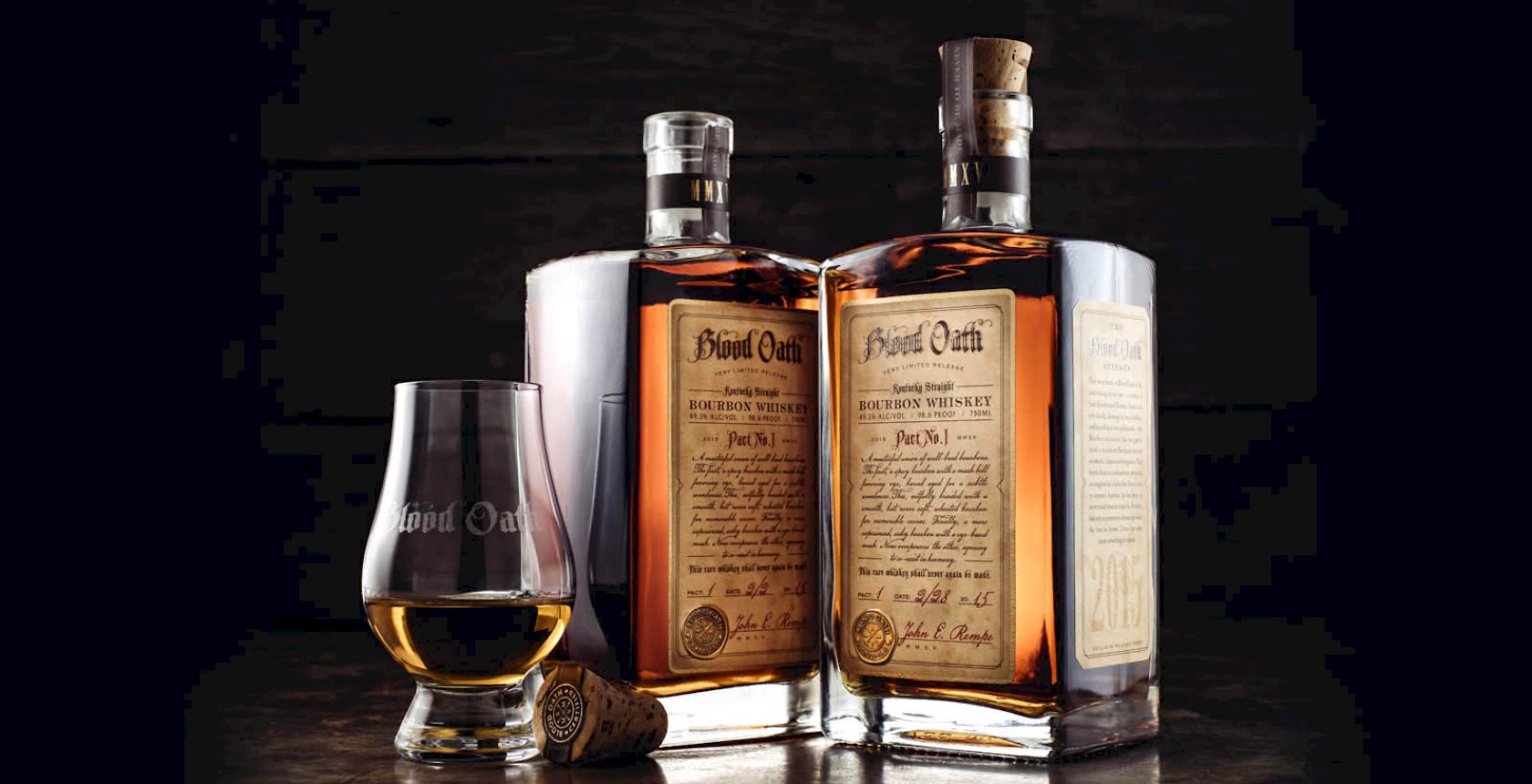 Featured in
ROLLING STONE
MEN'S JOURNAL
US WEEKLY
NOTICE: Many other small liquor store sites will end up cancelling your order due to the high demand, unavailability or inaccurate inventory counts.  We have the ability to source from a large network of licensed retailers to insure in most cases your order is fulfilled.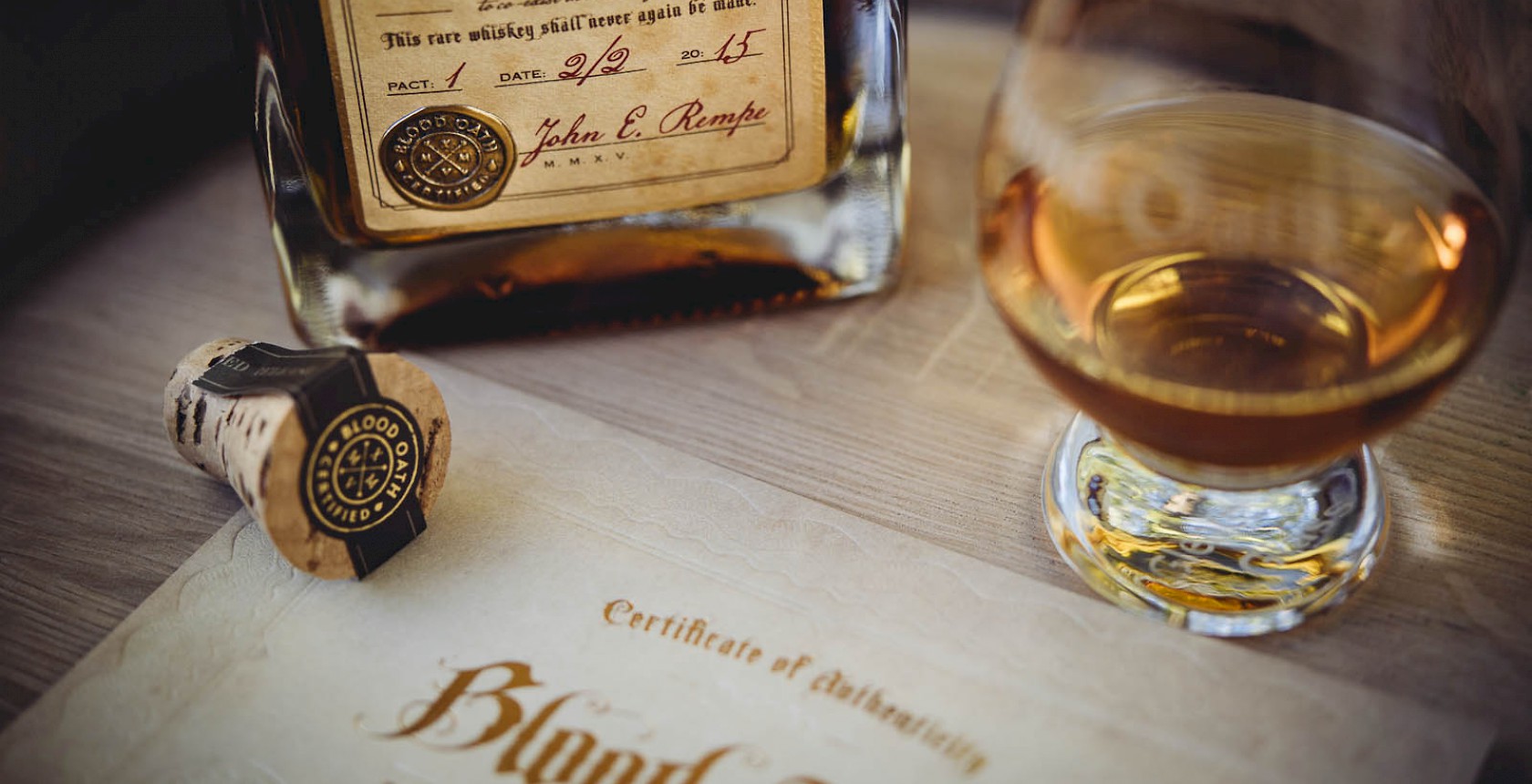 Size: 750ML
Proof: 98.6 (49.3% ABV)
Origin: United States
Distillery: Lux Row Distillers
BLOOD OATH PACT 2 2016 ONE-TIME LIMITED RELEASE KENTUCKY STRAIGHT BOURBON WHISKEY
This is the second expression in the limited-release bourbon series and follows Blood Oath Pact No. 1.
A masterful union of well-bred bourbons. One, a spirited bourbon with a decidedly rye mash bill, unmistakably oaky and strong. Two, a disarmingly smooth, wheated bourbon to soften the edges, yet intensify the flavor. And three, a port-barrel finished rye for a velvety sweet goodbye. An arranged marriage of the rich, rare and unexpected, for you to have, hold and hide.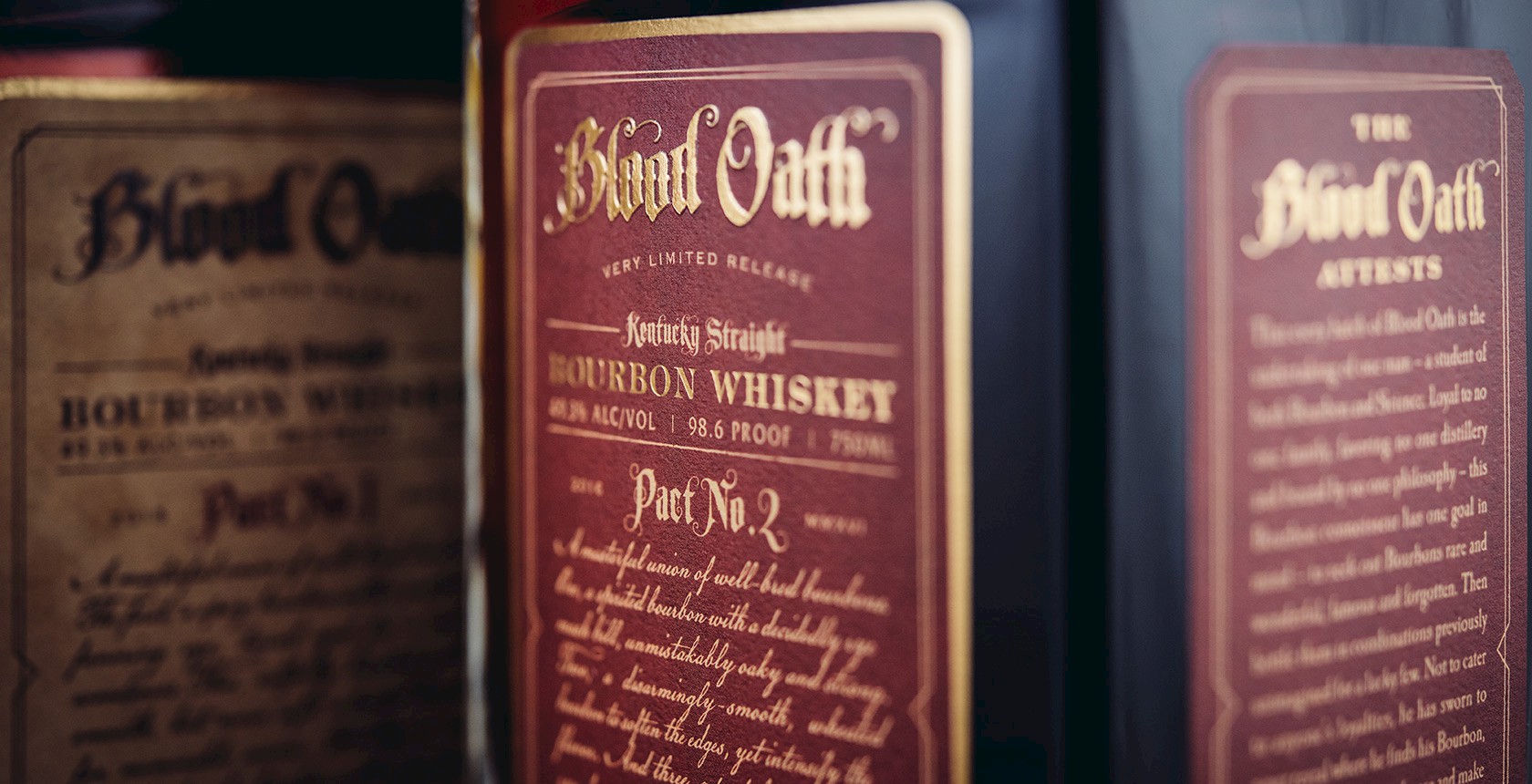 Blood Oath Pact 2 | 2016 One-Time Limited Release | Kentucky Straight Bourbon Whiskey Tasting Notes
Nose: Toasted oak, caramel & maple syrup with vanilla, cocoa, tobacco leaf and dried fruits.
Palate: Slightly sweet and spicy
Finish: Smooth, long and dry with a touch of spice and fruit.
Distillery Information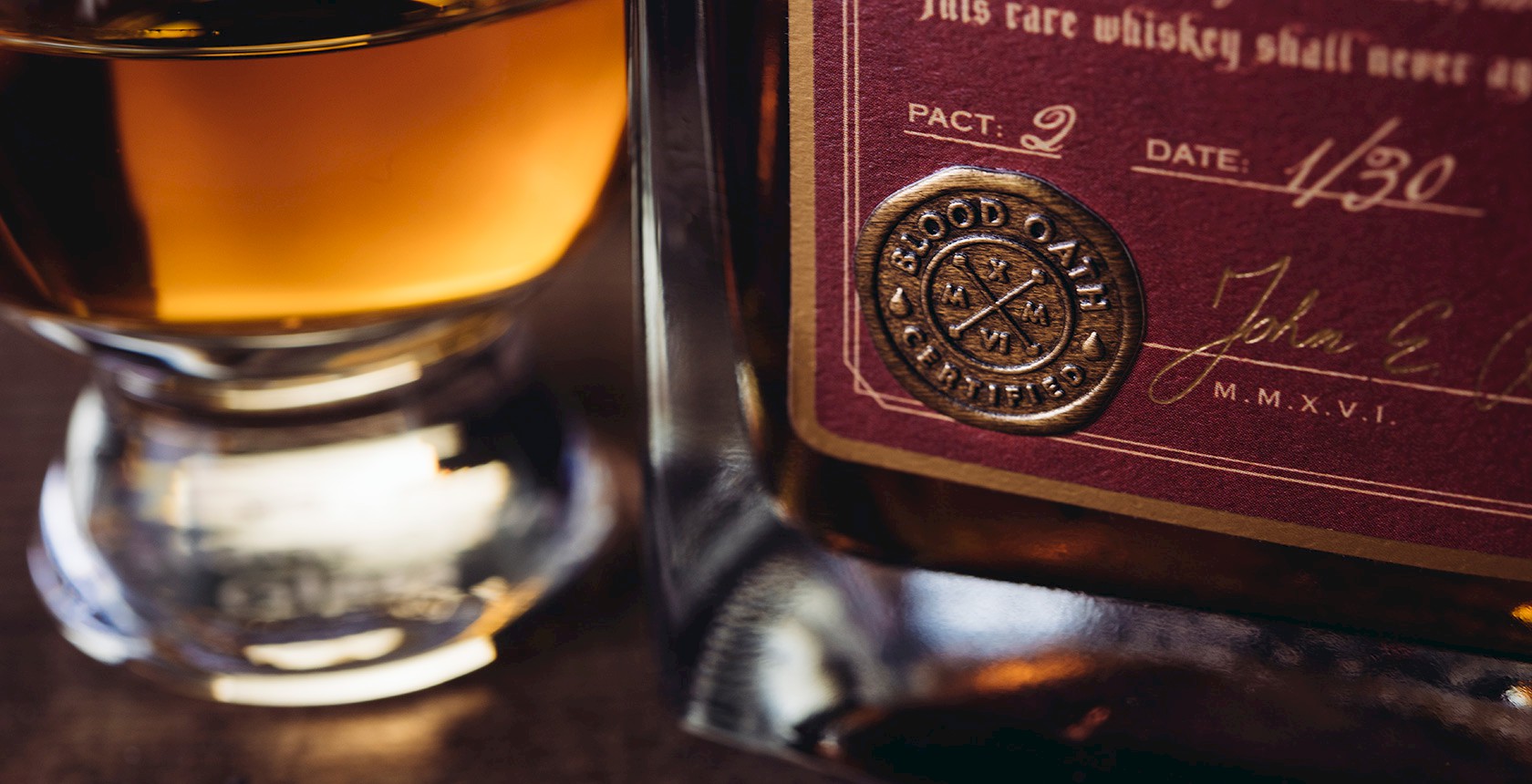 With over 18,000 square feet, 6 barrel warehouses at capacity and a 43-foot custom copper still, Lux Row Distillers is capable of producing 3 million gallons of spirit per year. When fully complete we will have the composite to process 50 thousand barrels of whiskey annually.